Wearing braids might be most associated with children and young women, but just because you're a woman in your 40's, there's no reason to avoid braided hairstyles. We bring you inspiring styles for women over 40 featuring braids in all shapes and forms.
Braids for any age and occasion
Looking for ways to wear braids in your 40's? Simple and stylish, but most of all, so practical, there are many reasons why we love braids. They provide structure and texture to any hairstyle, a casual braid is very easy to put together, and with the assistance of a few braids, you can turn your hair day from bad to fabulous in an instant! They are perfect for second day hair, and any of those days when you just can't find the time to wash your hair.
Braids can be worn in a almost endless number of combinations and styles, and can provide a touch of class to any quick updo. Any woman with long hair knows what a savior braids can be when you need to quickly style up your hair.
Is 40 too old for Braids?
Braided updo's can work for any occasion, from weddings and fancy dinners, to grocery shopping, they will help you look fresh, elegant, tidy and keep the hair out of your face. From classic french braids, loose braids, box braids or quick and casual braids for a night out with friends, there's a braid for every situation.
We recently stumbled upon a poll where people were asked two questions: "At what age do braids (like french braids) start to look silly on most women?" and "How unusual would it be for you to see a white woman in her 40's with braided hair in your area?"
Is there a cut-off age for braids?
Overwhelming majority (75%) of participants answered the first question with "Never", while on the second question opinions were a bit divided, 43% don't consider it unusual at all, while 35% of people see it as "somewhat unusual".  One of the participants stopped wearing braids in her early forties as she was often mistaken for an 'older sister' when going to school to pick up her kids. What do you think, is there a cut-off age for braids?
A braid is not only practical, it can look the part at any important occasion, wedding included. Bride, bridesmaid, or the mother of the bride, all can be successfully styled with a braid.
A simple updo becomes a bit more with a braid. This is a quick way to get ready for a night out.
Show your neck with this elegant braided updo.
A little braided detail will provide texture and structure to any hairstyle.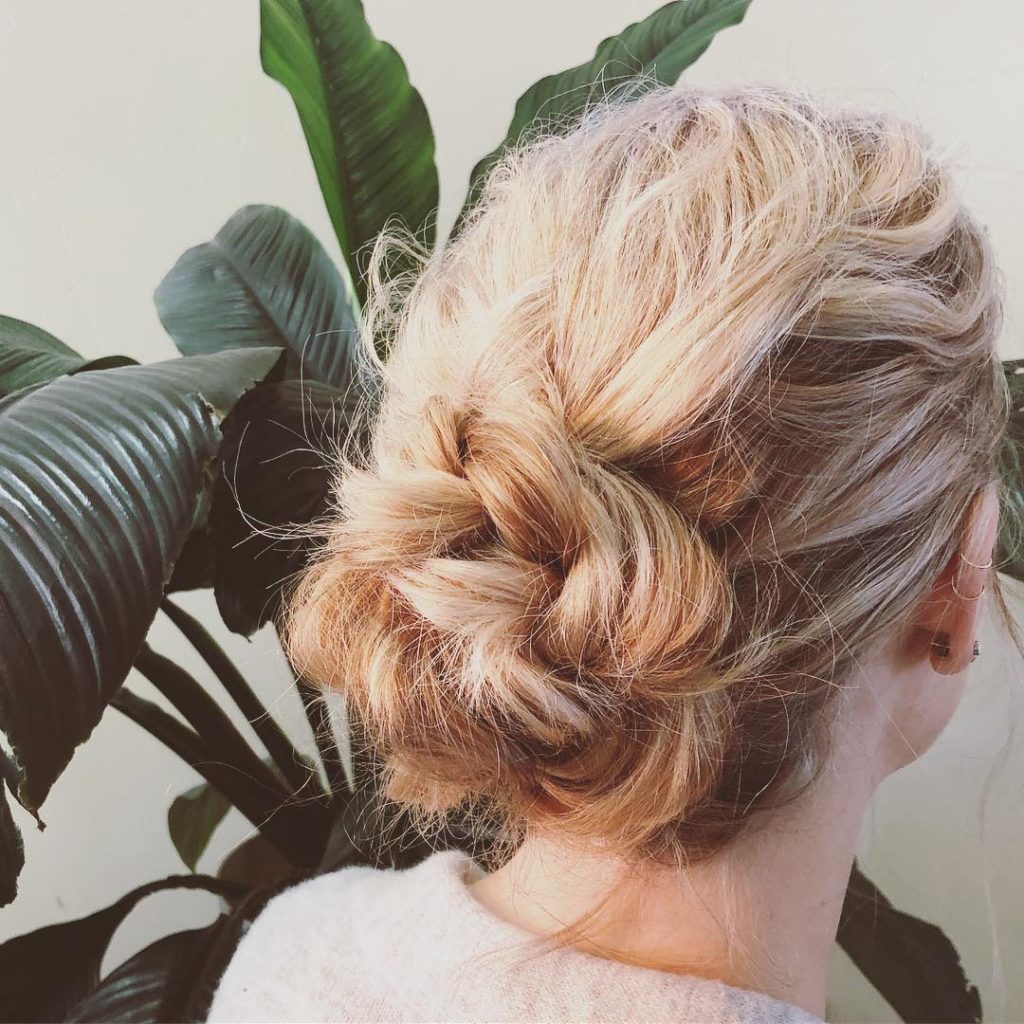 Source: Instagram @nichole.hairSimple and casual, great hairstyle for the weekend. Leaves you with more time to enjoy your coffee 🙂
There's absolutely no reason to overthink it, simple does it!