"You Don't Necessarily have to Act your Age, but Please Dress It."
You've seen women (that you know are over 30) in the grocery store, at the mall, at the movies, or on an outing somewhere, and they're wearing some god-awful outfit meant for someone half their age. You have to wonder why some women want to be a walking fashion faux pas, especially when they can't quite understand age-appropriate clothing, but what do you do?
Age Appropriate
The best way to deal with those caught up in a clothing choice time warp is to simply identify and eliminate certain looks that are meant for a much younger crowd as well as help older women discover what works and what doesn't.
A great place to start is to simply purge a wardrobe of most anything that you can see belongs in the "I'm too old to wear that category." Create your own recycle or repurposing bin and pass your usable castoffs to charitable organizations, other groups or maybe someone younger. Don't hang on to the past with clothing that you have outgrown or is just plain childish, outdated and inappropriate for your age group. Whether or not you are part of the over 30 crowd, wearable items in clothing, accessories and makeup all amount to common sense choices associated with what best fits your lifestyle, weight, body type, skin coloring and pocketbook. Remember, the less immature and childish, the better off style wise you'll be. Keep it simple, and you can dress appropriately for your age.
There are some immediately recognizable clothing items that simply scream under 30, or even under 20 for that matter, and those pieces need to be scrutinized for elimination but if you're not sure whether they fall in that category, take a look at what is trending and stop wearing whatever it is that fits the description.
1/17 Doing Denim Justice
Those ripped, torn, patched, embroidered, ombred, acid washed, sparkly, low rise navel revealing jeans and yes, overalls, are not for the aged. Fad jean renditions just don't belong in a classic and mature wardrobe. If you want to go the safe and mature route, replace those teen styles with a dark wash and slimming straight or boot leg cut jean, which really never go out of style, and are versatile as well.
2/17 Low Cut doesn't Cut It
A low cut or plunging neckline creates a negative impression with just about anyone, and the over 30 crowd should know that. It's better to create mystery with a more normal neckline. Keep in mind that any garment that hits at or below the middle of the bust area is simply too low and inappropriate. Maybe models on a runway or over indulged movie stars can wear evening wear or other clothing cut to the navel, but that's them, not you.
3/17 Outlandish and Uncomfortable Footwear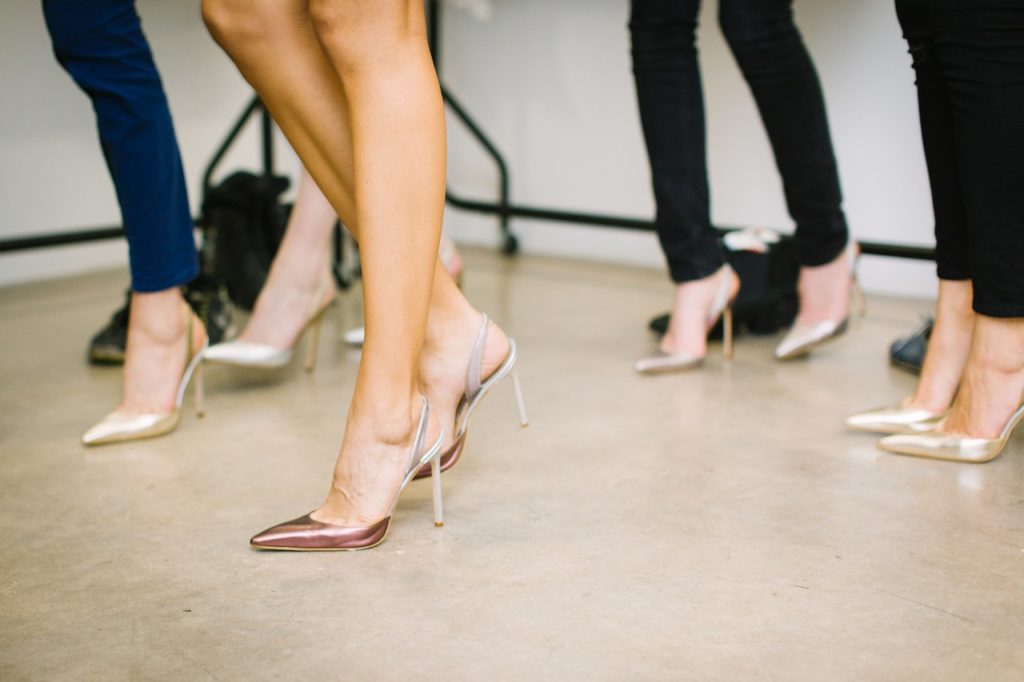 Exaggerated and uncomfortable platforms, unwieldy wedges and stiletto heels need to remain on the feet of the younger crowd as do little Mary Janes, oxford saddle shoes and fully fake fur boots. The same is true with elongated boots and sandals that rise to thigh and knee level. Those approaching 30 will one day realize that those so-called shoes that everybody wears will keep podiatrists and orthopedists busy for years. Good alternatives for women over 30 are high quality, tailored high heels, mid heels, booties, chunkier heel styles and even ergonomically styled flats that provide both comfort and unique styling.
4/17 Leopard, Lace and other Animal Prints
Leopard, lace and other animal prints are another trend that has captivated the younger set in leggings, tights, jackets, coats, dresses, tunics, accessories and everything else under the sun. If leopard fabric is going to be used after 30, it should be in the form of accessories, scarves, or even shells or camisole type tops. Solid Lace is another fabric choice that is reserved more for younger women, but if it is used as edging, trim or embellishment on solid fabrics it can look good on almost anyone. Other animal prints like tiger, snakeskin, alligator and others have the same overbearing effect when used in an overall or sweeping effect. For someone older, they simply need to be utilized as accessories or accent pieces, not complete outfits.
5/17 Tiny Tops, Tinier Shorts
Not everyone, over 20 or 30 should wear tiny tops (which includes outdated tube tops )as well as tiny shorts, as they just screams look at me, I'm wearing hardly anything, and I look great, when their definition of looking great is a far cry from what may be acceptable. Letting it all hang out just doesn't fit the profile of a woman over 30. If your figure has proven the test of time, choose clothing pieces that accent those sculpted areas, such as a classic camisole, which offers more coverage yet is modest and flattering.
6/17 Yes, Wear Structured Undergarments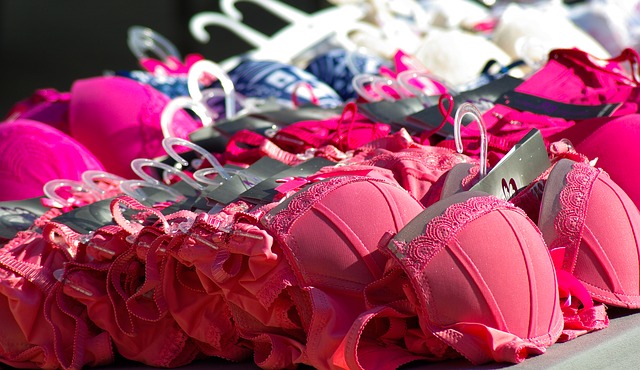 Don't think that saving pennies on flimsy underwear is going to do your looks any justice. Maybe when you're a pre-teen or teen you can get away with visible bra straps, lace push up bras and filmy undergarments, but thereafter it starts to look trashy. If you are over 30, you are likely to need a little help in keeping the upper and lower body intact. With the number of more structured undergarments and specialty bras out there that cover and conceal almost any strap, flaw or weight fluctuation, any woman can find comfort, firmness and long-lasting quality in the right undergarments.
7/17 Personalized Clothing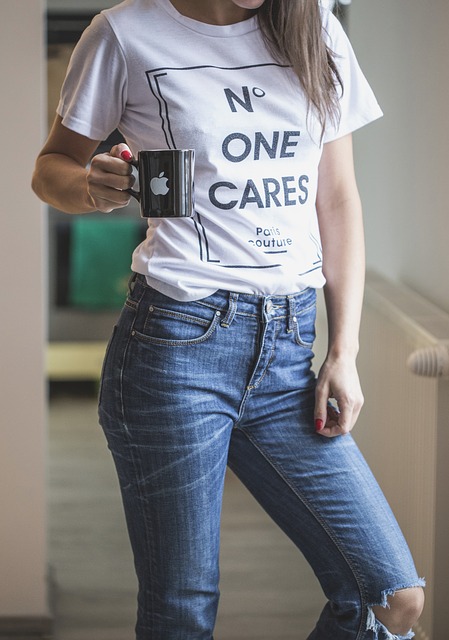 Personalized clothing items that express all kinds of feelings in graphic words slapped in bright colors across the front or back of a baggy t-shirt, or on the back of jean shorts and other garments are usually just silly and infantile. Rather than thinking you need to make your innermost thoughts known to the world, choose a quality white t-shirt and narrow dark jeans that can be mixed and matched with a number of outfits or ensembles. They'll more easily express a pulled together and organized look than any frumpy message t-shirt or frayed jeans.
8/17 Minuscule Skirts
Mini and micro-minis can appear less and less attractive on just about anyone over 30, so if you don't have toned and slender legs and the hips to accompany them, it's best to retire any remaining mini's to a 20th Century museum. Instead of crying tears of loss and regret over your mini, replace it with pencil or straight skirts that hit a bit above the knee. If they go above that level, wear opaque hose or tights with them.
9/17 Surrey with the Fringe
Leave the fringe to the surrey rather than on major parts of a clothing item, especially if you are over 30. Fringe is for the young and flirty and is more in character with costumes or western wear. For anyone older, a touch of fringe can give added oomph to an accessory, such as shoes, scarves or purses, or on select clothing pieces, like the edge of a sweater or on the bottom of a long, lean classic dress. Fringe can bring fluidity and movement when its use is limited.
10/17 Shimmer and Shine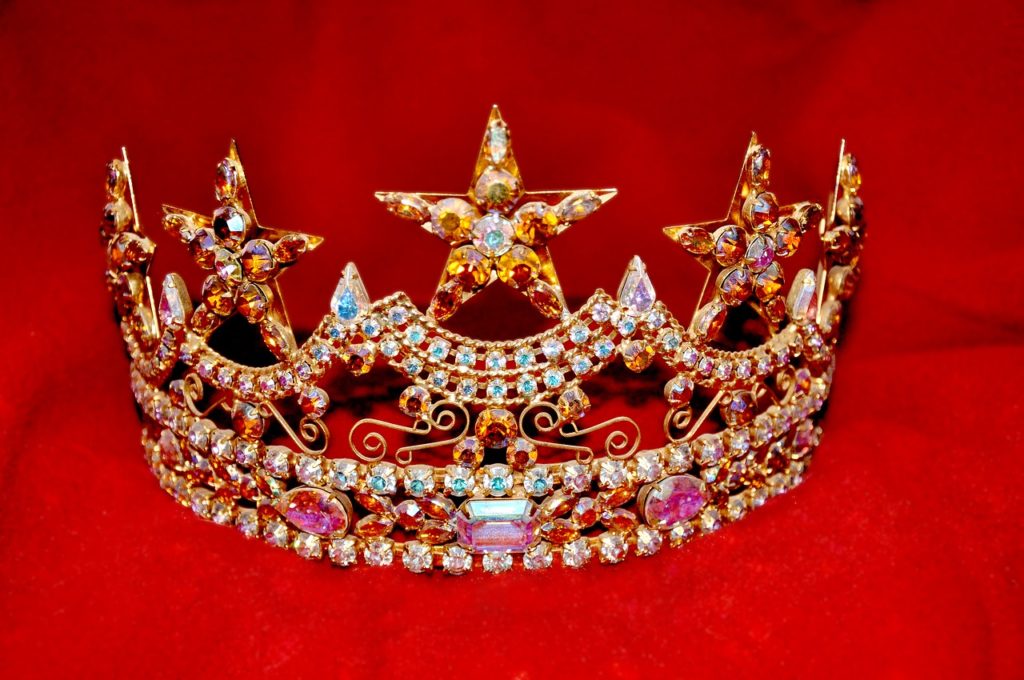 Shimmer, shine, rhinestones, sequins and tiaras are best left to the prom set, and most anyone over 30 should know that overall shine or shimmer on a garment or headpiece is going to become a juvenile kind of distraction and not the glimmer of youth. Costume like clothing draws attention to the clothing piece itself, rather than the person wearing it. If you are part of the teen set, shimmering and shiny clothing can be glamorous, but not so much with older individuals. Unless used as trims, embellishments or accessories, shiny fabric clothing is best left to those under 30.
11/17 Forego the Buttons, Bows and Bling
Little girl styled headbands, hair bows, fluorescent and wild scrunchies, candy colored hairpins, glittery buttons, and rhinestone hair accessories are reserved for the young. Save those rhinestone buttons for a classic white button up blouse. The same is true of endless bling bracelets, rings and necklaces stacked up on fingers, wrists, arms and necks. If you are over 30, stick to statement pieces and classic exchanges of metals, and please break up those matching jewelry sets from yesteryear and ditch the huge gold hoop earrings for something smaller. Bling should also be eliminated from over 30 nail styling. Glittery claw nails in bright colors are okay for younger women but can make an older woman look, well, older.
12/17 Everything Matches
Everything matching, or the total monochromatic look, from eye shadow, to lipstick to nails, jewelry, and clothing is alright on a teenager or twenty-something, but the over 30 crowd needs to break the monotony with mixed and matched pieces that coordinate with shoe, handbag and accessory selections. Small print blouses, jackets, tank tops or camisoles can separate an all black ensemble and bring texture and vitality to a one-color outfit.
13/17 Silly Socks, Slippers and Pajama Bottoms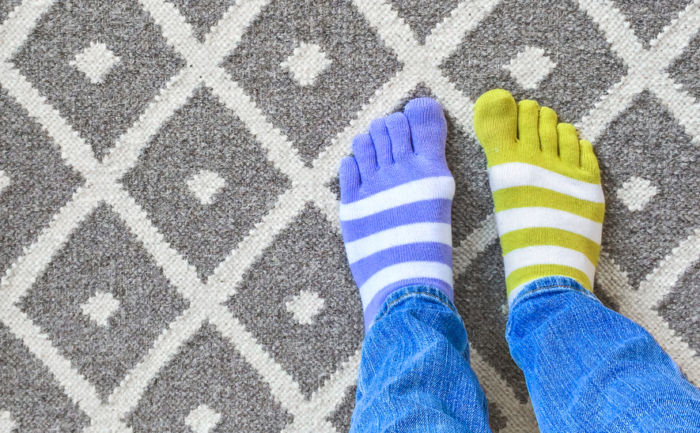 Seeing a girl or woman in silly character and mismatched socks along with furry or floppy bedroom slippers and plaid pajama bottoms is a real, you're too old moment for anyone beyond elementary school, much less over 30. The socks and pajama bottoms need to stay in the drawer, and the slippers in the closet. They can come out of hiding on cold winter mornings or nighttime wear in the house, not on the streets, grocery store, or any other establishment for that matter.
14/17 Cocktails and Clubbing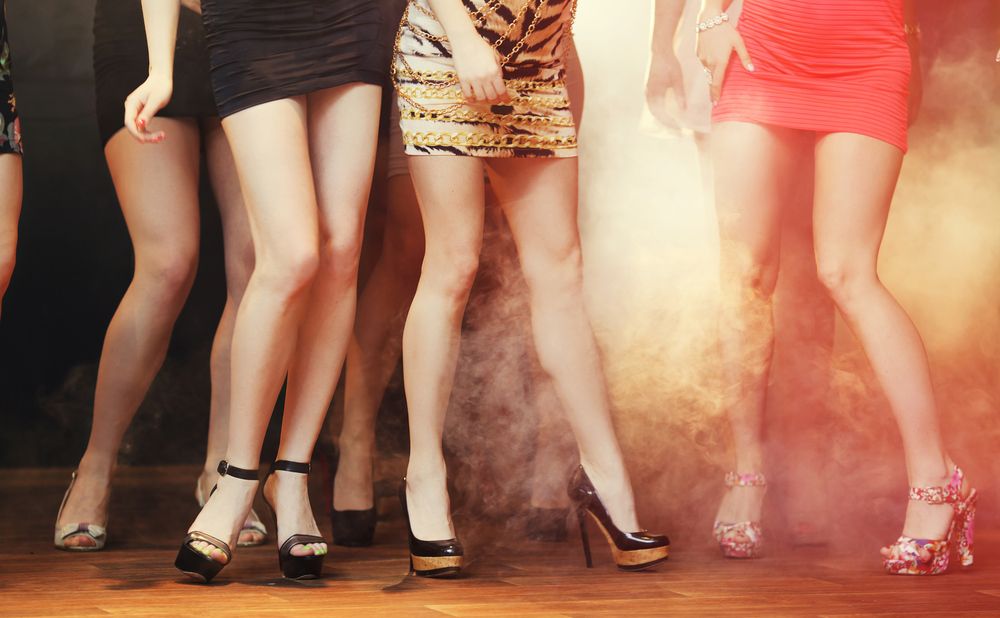 Skin tight cocktail and clubbing dresses in flimsy, stretchy and iridescent fabrics are definitely reserved for the very young and anyone over 30 needs to steer clear of the appearance these dresses can give. Every bulge, line and rising undergarment can reveal most of what you want to hide. Spanx may be the answer, but even that can limit comfort. If you are over 30, wear something with a fuller, flirty skirt a little above the knee and you'll enjoy the party so much more.
15/17 Up or Down on Leggings
Leggings, jeggings, skinnies, tights, thigh high socks and anything similar and in-between can qualify for an up or down vote with those over 30. Figure type and weight have a lot do with how they look on women and, of course, a thin, younger girl or woman is going to look good but those with a bit more weight will need to figure out the right tunic top to pair with the leggings. Funky and strange prints in odd colors and textures can make leggings look juvenile and costume like, so anyone older should stick with solid colors or dark patterned leggings paired with a longer coordinating top. Consider whether you should really wear leggings, especially wild and thickly textured ones.
16/17 Furry Clothing
Fur, whether real or faux, is another youth inspired trend, which with the right consistency and tailoring can look good on those under 30, but it can bring about a wild look if it's low quality and untamed, so selection is the key. Anyone over 30 needs to seriously consider whether they want mink, faux rabbit or any other fur in a vest or jacket and not appear as though they're ready for a Flintstones' costume party or mountaintop experience.
17/17 Blue or Aqua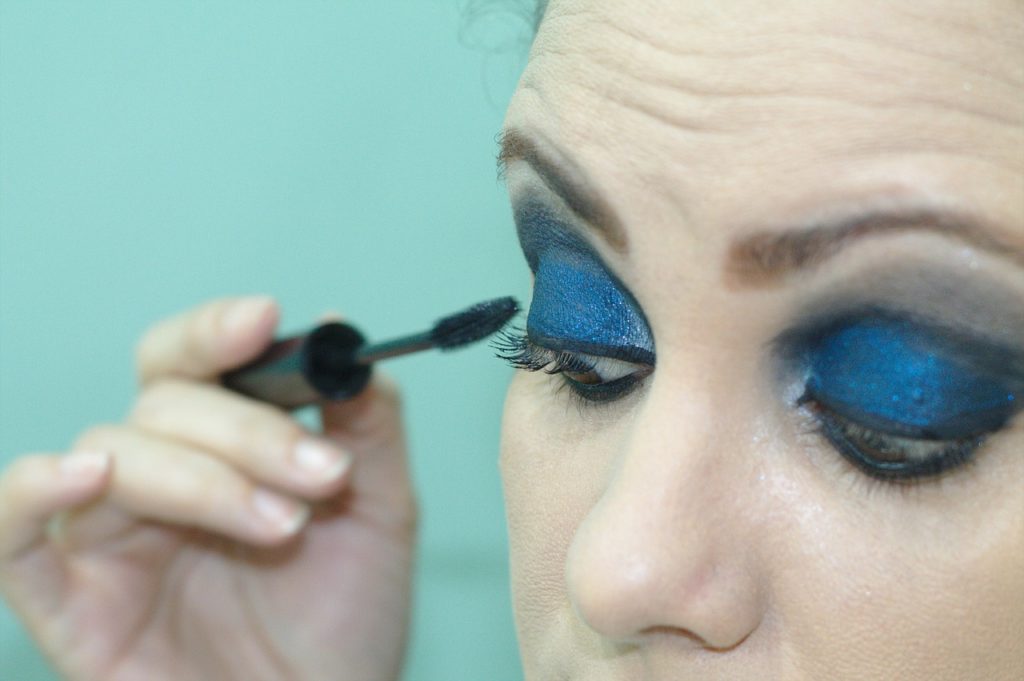 Outlandish blue or aqua eye shadow or any other stark makeup that qualifies as overdone can be somewhat acceptable as a youthful indiscretion, but anyone over 30 should know better and tone it down to a neutral and natural palette. Ostentatious makeup is aging and unflattering, and harsh color choices and heavy handed application make it worse. Also, forgo the glitter and extreme sheen.