Got a round face and looking for a hairstyle that accentuates your features and exudes femininity? Look no further than the feminine pixie cut! This chic and versatile haircut is perfect for round-faced beauties who want to rock a short, stylish look.
We'll explore the specifics of the feminine pixie cut, including how it complements round faces, the ideal hair type, styling tips, recommended hair accessories, and some interesting tidbits. So, let's dive in and discover the perfect pixie cut for your round face!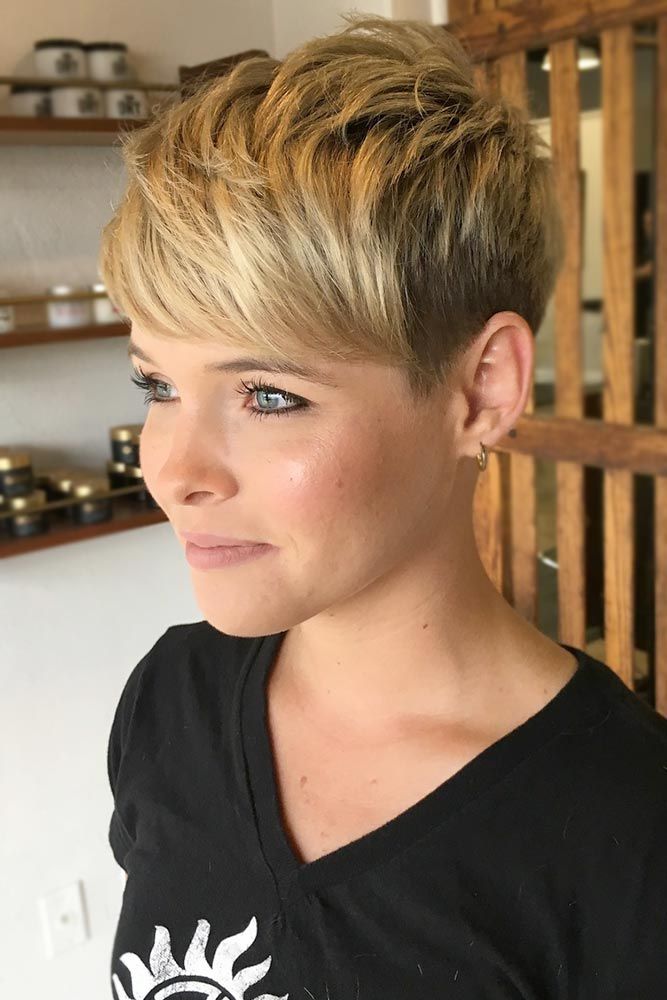 The Feminine Pixie Cut for Round Faces
The feminine pixie cut for round faces is all about striking the perfect balance between softness and structure. It features longer layers on top and shorter sides, creating an illusion of length and drawing attention to your best facial features. This haircut is designed to enhance your natural beauty while adding a touch of feminine charm.
Ideal Hair Type and Texture
The feminine pixie cut works best with hair that has some natural texture and movement. Whether you have straight, wavy, or slightly curly hair, this cut can be tailored to suit your hair type. The soft layers and shorter sides help to add volume and dimension, giving your hair a gorgeous and flattering shape.
The Round Face Advantage
The feminine pixie cut is particularly suited for round faces. The longer layers on top can create verticality, making your face appear longer and more balanced. It also highlights your cheekbones and jawline, enhancing your facial structure. With the right styling techniques, you can achieve a flattering and feminine look that complements your round face shape.
Styling Tips for a Feminine Touch
To add a feminine touch to your pixie cut, consider incorporating subtle styling techniques. Experiment with side-swept bangs that softly frame your face, adding a touch of elegance. You can also play with textured waves or curls using a curling iron or styling products for a romantic and feminine vibe. Don't be afraid to experiment and find the style that makes you feel confident and beautiful.
Hair Accessories to Complement Your Pixie Cut
Accessorizing your pixie cut can take your style to the next level. For a feminine touch, try adding a delicate headband or a sparkly hairpin. These accessories can draw attention to your facial features and add a touch of glamour. Additionally, consider opting for earrings that flatter your face shape, such as elongated drop earrings or hoop earrings, to create a balanced and stylish look.
Confidence is Key
Remember, your pixie cut is an extension of your personality. Embrace it with confidence and rock it proudly. Experiment with different styling techniques, hair accessories, and makeup looks to create a unique and personalized style that reflects your inner beauty.
Fascinating History
The pixie cut, a beloved and iconic hairstyle, has a fascinating history. This daring and short haircut gained popularity in the 1950s and 1960s, thanks to influential figures like Audrey Hepburn and Mia Farrow, who showcased its chic and rebellious charm. It was hairstylist Vidal Sassoon who revolutionized the pixie cut, introducing precision cutting techniques and geometric shapes that became synonymous with the style. Over the years, the pixie cut has evolved, with variations ranging from classic to edgy, textured to sleek. It has become a symbol of empowerment, allowing women to break free from traditional beauty standards and embrace their individuality. Today, the pixie cut continues to inspire women around the world, offering a timeless and versatile option for those who dare to embrace their unique beauty and showcase their confidence.
The feminine pixie cut is a fabulous choice for women with round faces. It enhances your features, adds a touch of femininity, and exudes confidence. With the right hair type and texture, styling techniques, and complementing hair accessories, you can create a stunning look that is uniquely yours. Embrace your round face and show the world your beauty and style with a feminine pixie cut. Go ahead, rock that short and chic hairstyle with pride!