Just because you've gotten a little older doesn't mean you can't have any style. And when it comes to hair, you've got the perfect opportunity to let yourself shine. Forget the boring, frumpy hairstyles you grew up thinking were reserved for those over 40. Whoever came up with that idea was poorly misinformed. Just as everything else has, hairstyles for older ladies have certainly kept up with the times. Whether you wear your hair long or short, there's a perfect hairstyle for you. Not just one option, but several, no matter what length or style you favor.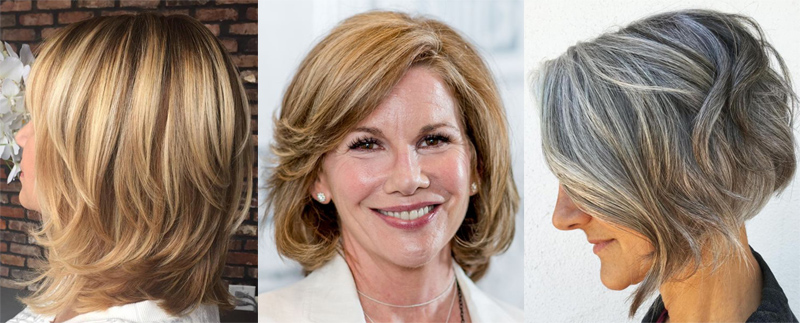 Have you been wearing your hair long for years but found yourself toying with the thought of chopping it all off? Do short hairstyles equal boring in your mind? That doesn't have to be the case. Bobs, lobs, and pixie cuts are not only in style – they're also the perfect excuse to make the chop you've been dreaming of. For those who are in it for the long-term commitment with their long locks, there are tons of ways you can style your hair for something a little different. Side-swept bangs can add a sweet touch to any style. One of the major plus sides to rocking long hair is that you can easily create sculpted waves, loose romantic curls, or even a flirty feathered style.
Embrace this time to experiment with your hair
If you struggle with finding the perfect style to wear your beautiful curls in, there are better options than just washing, combing, letting it air dry, and hoping for the best. At any length, or with any style, having your stylist add highlights or lowlights can add both dimension and definition to your hair. It's a tried and true method of waking up lifeless hair. No matter what style or length you opt for, that perfect look can be achieved. Hairstyles, cuts, and colors are the perfect way to celebrate what makes you unique. As the old saying goes, life is all about choices, and it should be no different with your hair. Embrace this time to experiment with your hair. Go ahead, add those choppy layers for the rock inspired shag you've been dreaming of; or chop it all off and style that new pixie cut to perfection!
Pixie Styles
Side-Swept Crop
If you favor short hairstyles over long, pixie cuts are an excellent choice. Short styles aren't only for those who are reserved. Rock a daring hairstyle by getting an asymmetrical cut with side-swept bangs. Adding deeply swept bangs only amps up the fun with this flirty look.

Pumped Up Pixie
Full, voluminous hair isn't only for those with longer locks. Pump up your short style by using a texturizing strong hold gel and a round barrel brush. This is the ultimate head turner for those who dare to get a little wild with their hair.

Wavy Crop
Wearing your hair in a short, tight crop doesn't mean it has to be boring. Instead of leaving your hair straight, use a curling spritz, gel, or a texturizer to add sophisticated waves to this style.

Bobs
Wavy Bob
Fun and chic go hand in hand with a wavy bob. You can rock this look for nearly every occasion. This is a go-to beach look that can also be easily dressed up with a fancy blazer and a pair of kitten heels for the workday. Part your hair down the middle for a more sleek look, or on the side for something fun and flirty.

Curly Bob
A tight, curly bob is the perfect frame for those with strong cheekbones. There is no better way to draw the eye to such a strong facial feature. Tight curls, at any length, are one of the best options for those looking for a fun look. The volume and texture found in this style are an added bonus.

Sculpted Bob
A sculpted bob is the way to go if you're looking for a polished look. Add volume to your hair with a wide-barrel round brush. Then expertly frame your face with split curtained bangs.
Short Hairstyles
Flippy Lob
If your heart's desire is to have a polished look, opt for a long flippy bob. This hairstyle is ideal for those looking for the perfect balance between fun and professional. To achieve this look simply flip your bangs outward while curling the ends under.
Messy Short Cut
Even short haircuts can be worn in layers. In fact, wearing your short 'do in layers makes it very easy to achieve an effortless messy look. For a messy bedhead look just spritz your hair with a waving spray and dry. If you want a more sophisticated style then use a large-barrel curling iron for a piecey, yet soft, look.
Asymmetrical Lob
Bobs and asymmetrical cuts are all the rave right now. If you've been toying with the idea of going for either of these styles, but don't want to lose your long locks, take the dive with an asymmetrical long bob. This look is unique and easy to switch up. For a sophisticated style, you can wear your hair straight. Feeling flirty? Add some waves for an attention-grabbing look.
Stylish Shags
Voluminous Shag
Shags are commonly known for their place in the rock world. But the memo is out that even a layered shag hairstyle can be turned into an elegant masterpiece by curling up the ends and pumping up the volume. Fortunately, shags aren't reserved strictly for those looking for an effortless just rolled out of bed look.
Long Two-Tone Shag
If you like experimenting with hair color try adding highlights or lowlights to add dimension to your hair. Rocking two-toned hair transforms an already edgy shag hairstyle into something truly showstopping.
Short Shag
If you've been wearing a long shag hairstyle for years and long for something different, but want to keep your style, there's good news. You can shorten your locks while keeping the shag. With its many layers, a short shag is very low maintenance. Add some texturizer to your hair after washing for a look you'll love.
Shoulder Length Styles
Shoulder Length Volume
Voluminous straight layers can frame any face perfectly when the ends are loosely flipped under. Use a large round brush to achieve this fun, flipped under look.
Angled Beachy Lob
Want an edgy, cute, and effortless look? Opt for an angled lob. Spritz some curling spray in your hair for beachy waves or blow dry and straighten your hair for a more polished look. When your hair is shorter in the back and longer in the front it is easy as pie to create vastly different hairstyles.
Voluminous Shoulder-Grazing Locks
Looking to add volume to your shoulder length hair? Instead of parting your hair, tease the hair at your crown and let the top layer cascade over it. This simple trick leaves your hair looking full and thick.
Highlighted Ringlets
Wearing your hair in ringlets is an instant way to add volume to shoulder length hair. To add even more definition to your hair just throw in some contrasting highlights.
Feathered Layers
Feathered layers and long parted bangs can frame your face perfectly. When styling you should use a volumizing mousse and hairspray. You can achieve this look by using a large barrel brush for loose waves. If you desire an even fuller look you can simply run your fingers through your hair after using hot curlers.
Long Hairstyles
Wavy Side-Swept Bangs
This long, sleek hairstyle is a classic for those desiring a more elegant look. This textured hairstyle is perfect for every occasion. This look features side-swept bangs that blend perfectly into loose curls. Sleek waves can be perfectly paired with a dress for a night out on the town or a business suit for that upcoming meeting.
Sculpted Waves
Want to look like a movie star? Make the switch to a timeless long hairstyle with perfectly sculpted waves deeply parted to the side. This look can be achieved by using a large-barrel curling iron, paired with some volumizing mousse and hairspray.
Romantic Loose Curls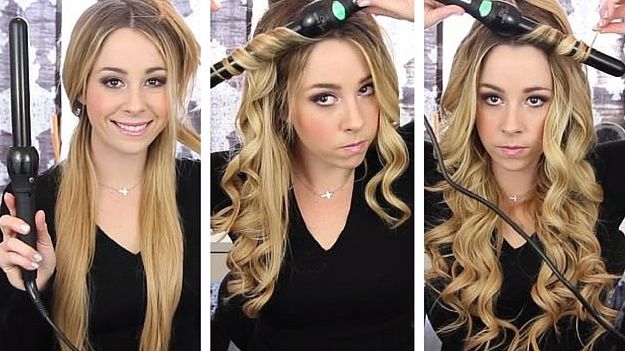 You can wear your loose curls in a more fun and flirty fashion by pulling the curls apart for a piecey style. Part your hair down the middle to perfectly frame your face. This style is one that can be worn anytime, for any occasion. Not only is this look easily achieved, it is also timeless.
Middle-Parted Long Layers
The trick to having the hair of goddess is simple. Add layers to your long locks to keep your hair from falling flat. You can also use a round barrel brush while drying to add volume and subtle waves.