One of the hardest adjustments women must make for their age is figuring out to do with her hair. Due to changes in hormones and bodily functions, women often deal with hair loss, greying, and lack of luster. Thankfully, though, there are plenty of different hairstyles and cuts to keep women looking fresh and stylish well past their 50s.
Many hairdressers recommend chopping the hair off to allow a short hairstyle to put more focus on the face and detract from the many issues hair can give women as they age. Other celebrity stylists are adamant that not every lady over 50 needs to get a pixie right away, and that more options are available if you want to hold on to your locks.
Asymmetrical Short Cut
If you're feeling a little edgy, then there's no need to go with a haircut you feel is uninteresting or not you. For added flare, ask your hair dresser to get you an asymmetrical cut—longer on one side than the other. There are a variety of ways to pull this look off, and it'll give you extra wiggle room for styling without giving you too much work to do.

Undercut Pixie
To spice up a regular pixie cut, ask for close-cropped or shaved sides. This undercut adds a cool and daring element that is easy to style and maintain. The look is androgynous and effortless, making older women look youthful and trendy while keeping the locks short.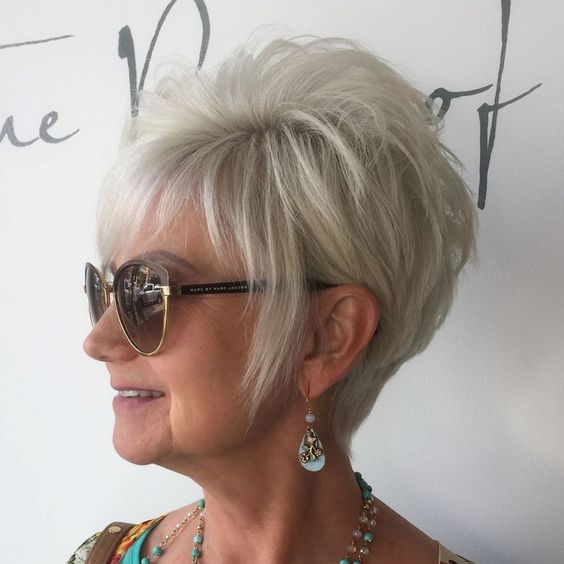 The Lob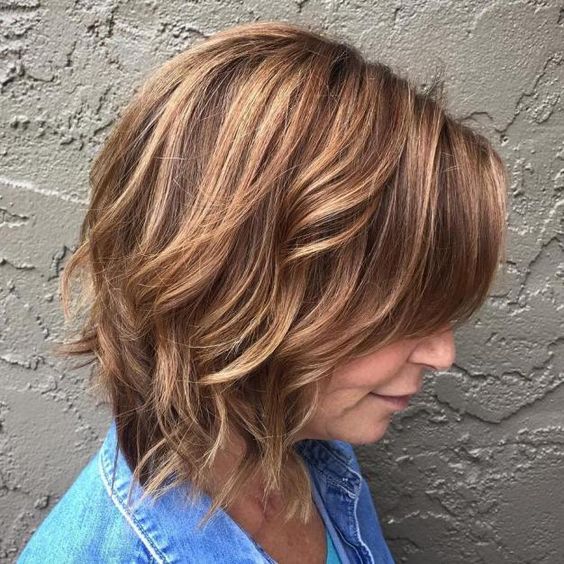 Aging doesn't have to mean cutting off all your hair. For women with fine or thinner hair, the lob might be for you. To keep the cut looking clean and graceful, keep the hair all at one length, with a little bit of fringe to frame the face nicely. This fun look will doubtlessly make you look young and lively.
Choppy Pixie
For a natural look, keeping the hair extra chopped and layered can lend a short pixie cut more movement and fullness with very little effort. With a few extra layers on top, this pixie has twice the volume and styling capabilities as a more traditional pixie if that's what you're going for.
The Shag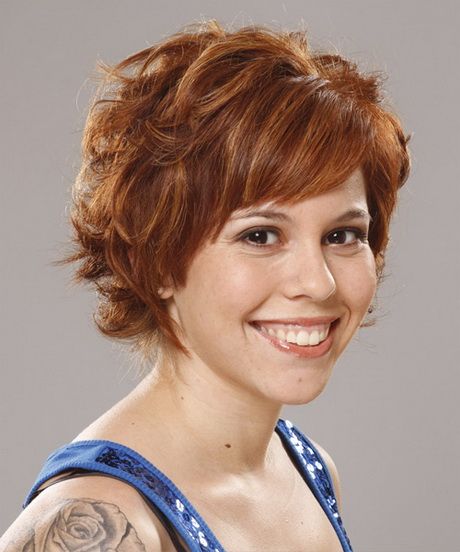 There's nothing more playful and fun than a medium-length, layered cut with a little bit of flip at the ends. Shags are a timeless haircut that look especially good on women over 50, who still love longer hair.
The Classic Pixie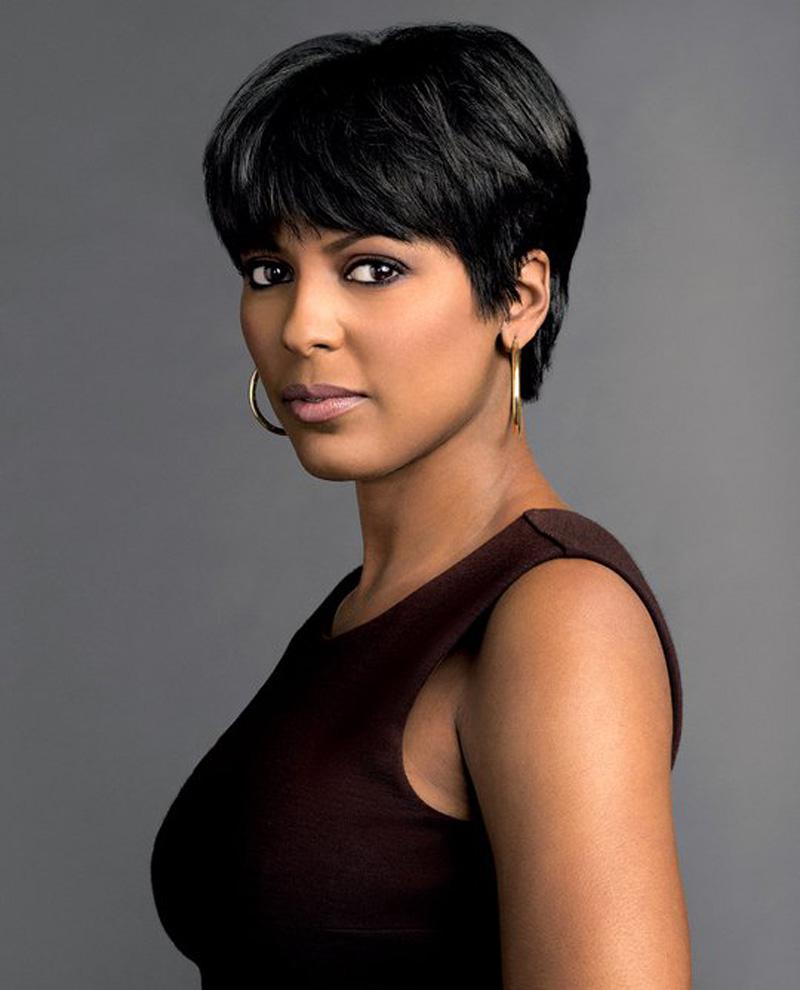 It's important we go ahead and get this out of the way—yes, the pixie. It's a classic and safe option for any older woman looking to tone things down, keep her hair routine simple, and still look youthful. The pixie is a solid go-to when feeling in a rut, and it looks good in every shade and on everyone.
Short Pin Curls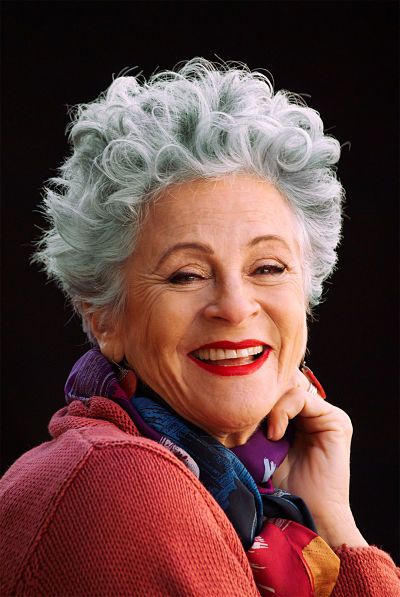 This faithful hairstyle is always in. Since it's glorious debut in the 30's, it has consistently remained one of the most fashionable hairstyles. This vintage style thankfully looks darling on people of every age, skin tone, and hair color.
Cropped Afro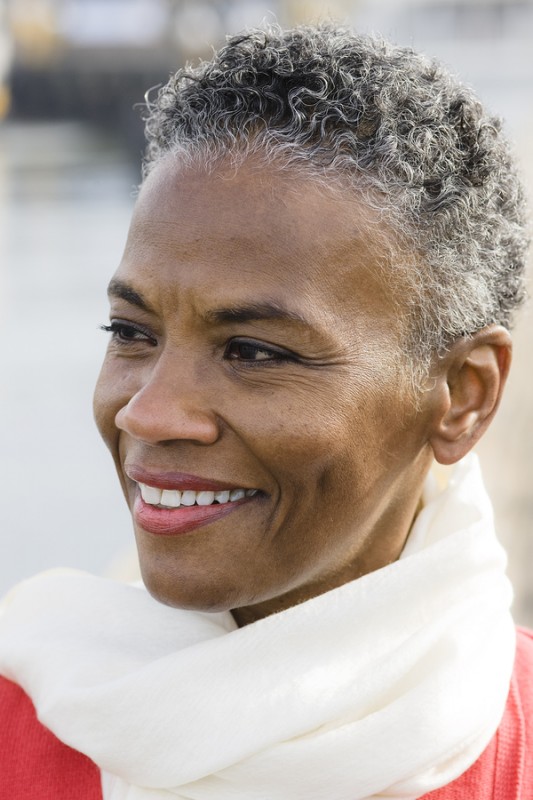 We love a woman with natural hair, and women who have aged are no exception. For women of color who like to wear their hair naturally—or even for women who have been wearing a perm and want to change it up—you can't go wrong with a short afro. It looks good silver, brown, or black.
Platinum Pixie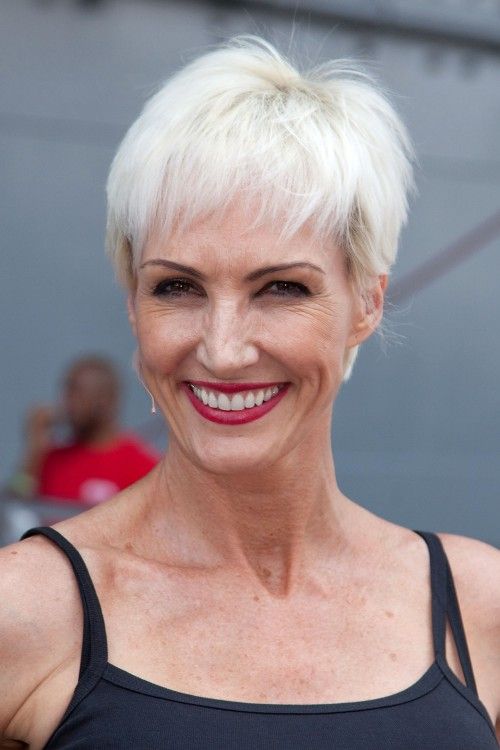 When a woman's hair starts to grey, her first response might be to dye it back to its original color or try to keep it dark. Going full platinum, however, is another option that better hides grey hairs and keeps your face bright.
Short Cut with Long Bangs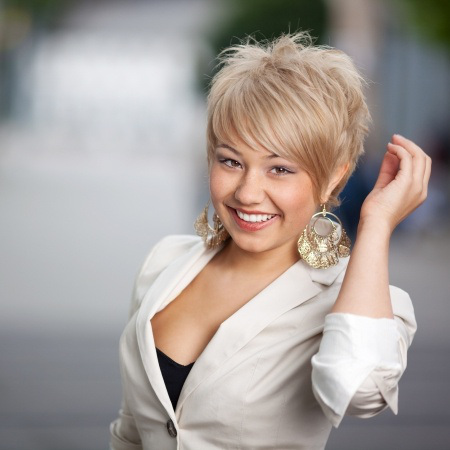 Another way of keeping your hair flirty and fun over 50 is to keep it relatively short and tousled in the back, but to keep your long, slick bangs. Bangs instantly transform everyone's face into a newer and younger model, and keeping them side-swept lends itself to an air of sophistication and success.
Spiked Short Cut
This look is great for women with thick, straight hair who want fun hair to ply with. Spike it up toward the front in a kind of messy, faux-hawk style for something fun and youthful. It can work with super cropped hair or with a little bit of fringe.
Page Boy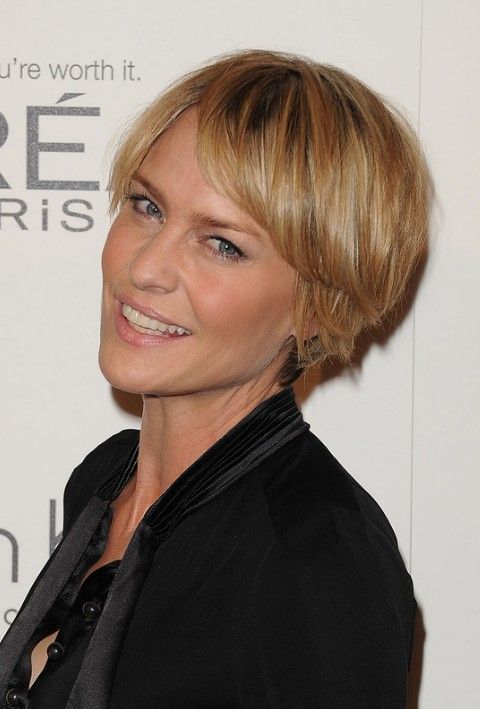 Framing the face is one of the best ways to keep you looking edgy and fresh. The pageboy has a million different variations concerning fringe, bangs, and edges, so there's bound to be a version that suits you. It is a look that best suits those with straighter hair, to keep it looking tame and chic.
Buzzed
This may sound crazy, but some women barely need any hair at all to feel youthful and alive. In fact, keeping hair buzzed short is a style that's currently trending and just may be perfect for women who have had their share of worrying about their hair.
Cropped Pixie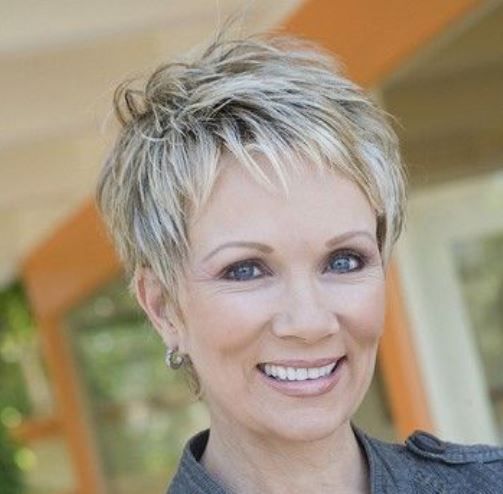 You can't go wrong with the pixie. Keeping hair short in later years helps bring vibrancy and vivacity to the face, especially the eyes. Cropped pixies are an excellent way of reducing the work that needs to go into your hair every morning, whilst still looking feminine and polished.
The Meryl Streep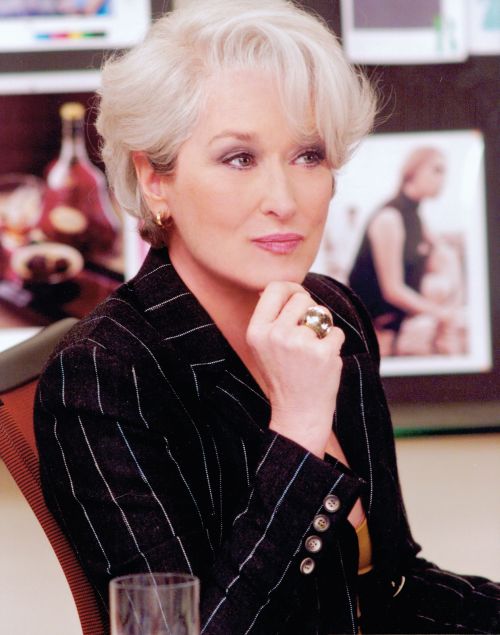 You can call it a soft lob if you want to, but we like this title better. Who better to model the beauty of age and wisdom than the legend herself? Meryl's hair is longer and a little layered, giving her the power of both long and short cuts. Drop her name at your local salon, and your hair dresser will know exactly what to do.
Textured Bob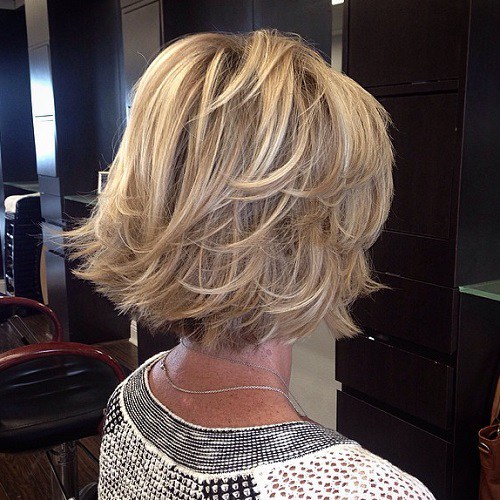 Once upon a time, the bob only came one way. These, days, though, bobs have all sorts of styles and have the chance to be a little more playful. Get a chin-length bob with some layers and waves for a look that's ageless and mature.
Rounded Bob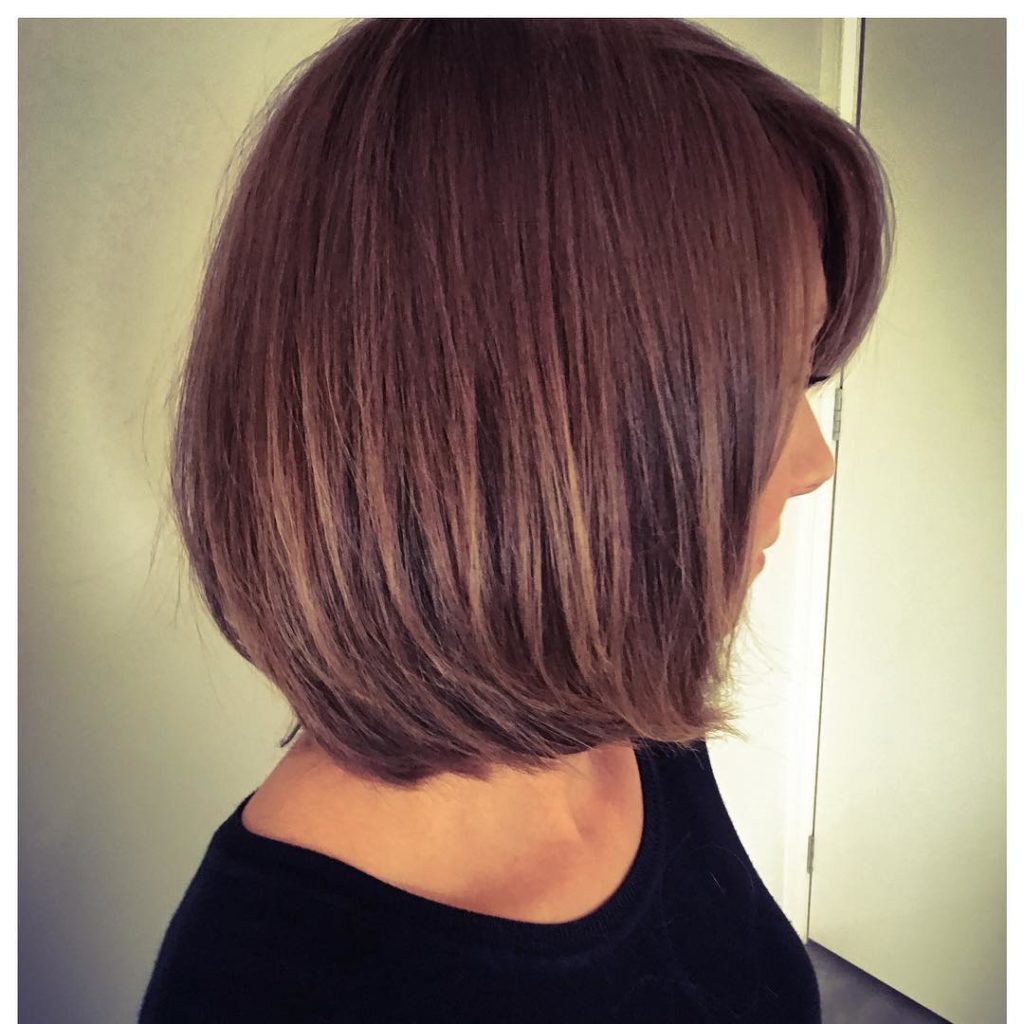 More traditional bobs look excellent on women with naturally straight hair or on women of color. This elegant style is great for women who want an executive-type, lady boss look who are in no mood to roll over and retire.
Salt and Pepper Curls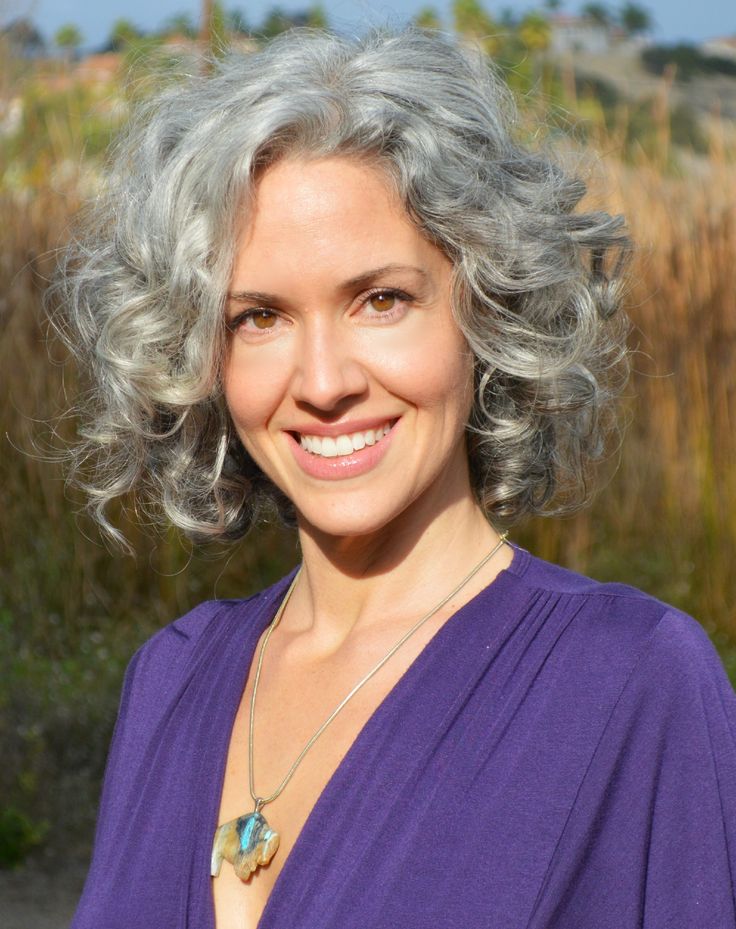 We see no wrong in embracing the grey that comes with age. After all, even young people have donned silver locks a time or two—grey, silver, and white are all fashionable hair colors. We especially like ombre grey-and-white looks that fade from one side of the spectrum to another. It's a clever way of aging gracefully that looks especially good with textured or curled hair.
Auburn Waves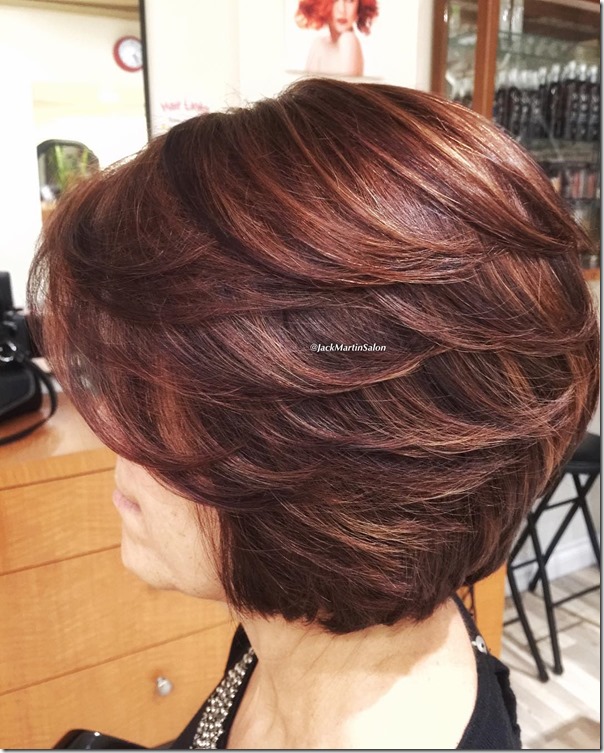 For women still rocking a longer or medium-length cut, we recommend adding extra color by staying away from neutrals like blonde or brown. Red hair is something every woman should try once in her life, and 50 is a great time to try it. Take your natural hair color into account, and go either with a warm vibrant red or something a little ashy depending on what looks best!
Bob with Bangs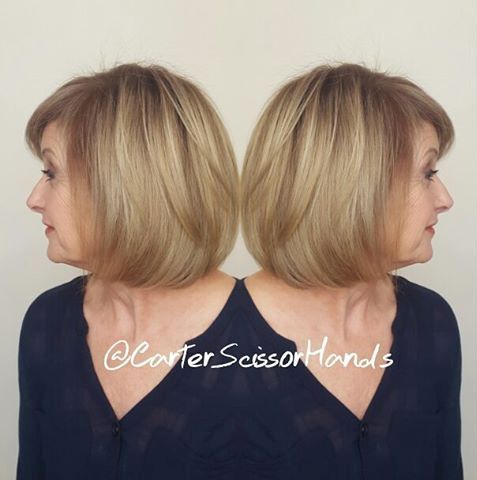 Curls are excellent for older women, and they look especially great in a short, chin-length bob. To spruce it up a little, try adding full bangs across the forehead. They'll give an added dimension to your haircut that are quick and easy to style and make you look like a new woman.
Feathered Crop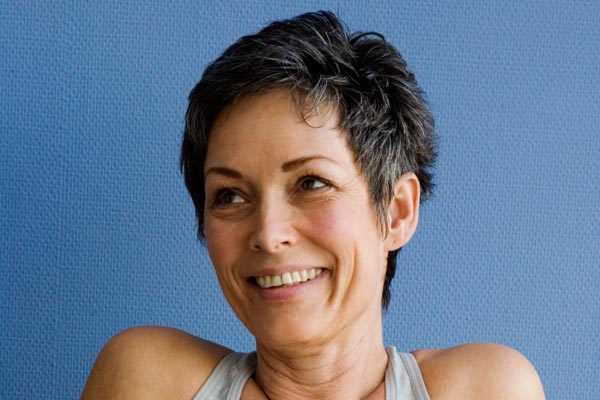 This hairstyle is another classic that deserves a mention. By keeping hair cropped close to the head and styling it away from the face in soft little feathery sections, you get an instance face life. It's a great style that takes little time to achieve and makes you look like a professional.
The Angled Bob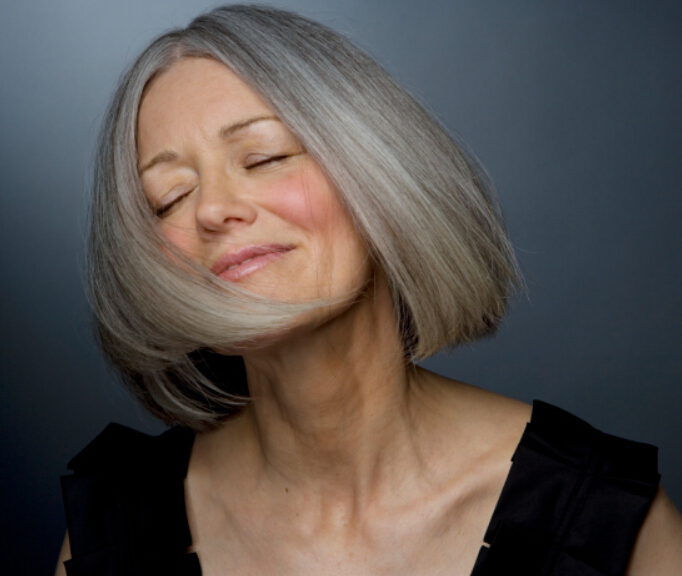 Another way to spice up a traditional bob is to keep it long in the front and short in the back. Keeping the cut layered toward the back helps it maintain a decent volume all over, while the long edges frame the whole face beautifully.
Beach-Worthy Layers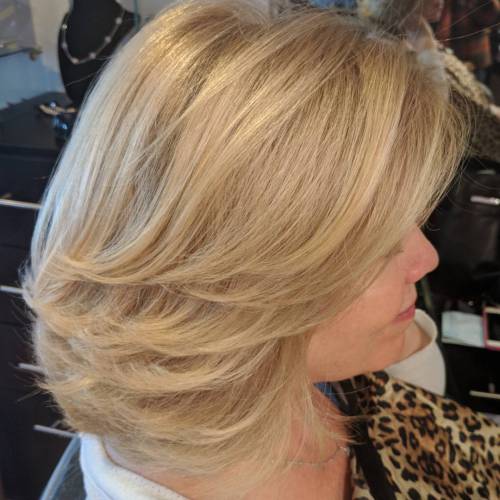 This hairstyle is a neat, layered look that is both casual and graceful. Keep your thick hair in tidy layers and style it so they flip backward away from the face. This look is excellent for women with side bangs.